7 Essential Spring Skincare Tips for Fresh, Glowing, and Healthy Skin
Spring has arrived, and with it comes warmer temperatures, bright blooms, and a fair share of seasonal skincare struggles. From dryness to breakouts to increased sensitivity, spring can be an especially tricky time for your skin. Not only do you have to temporarily retire your heavier winter wardrobe to the depths of your storage closet, but the change in temperatures can require a recalibration in your skincare routine as well.
We've created a list of spring skincare tips that will get you looking fresh as a daisy (and make it easier for you to step into summer with refreshed and healthy skin). You'll find valuable advice to build your spring skin care routine towards a more radiant complexion all season long.
Tip 1: Exfoliate to Shed Dead Winter Skin
 After experiencing months of the freezing-cold temperatures in tandem with the dry warmth of your indoor heater, your skin is most likely in need of some TLC to get springtime ready. Give your complexion the extra attention it needs by shedding your dead winter skin—which can cause clogged pores, breakouts, and dull, rough-looking skin—through exfoliation. Not only can it help your dry skin look more supple, but it also helps skin absorb moisturizers and other skincare products more easily. (Source)
Physical Exfoliation
There are different types of exfoliators, including physical scrubs and chemical exfoliants. Physical exfoliants work by using friction from tiny particles or brushes to slough off the dead, dull skin that's been sitting on the surface of your face or body, helping to reveal smoother, brighter, and more radiant-looking skin underneath.
It's important to remember that a good physical exfoliant should not feel too rough on your skin, and that a gentle, light hand with minimal pressure should always be used with physical scrubs. The last thing you want to do is aggravate your skin, damage your skin barrier, or push the dirt, dead skin, and bacteria further into your pores.
We Recommend:
Best Physical Scrub for Spring-Ready Skin: 
Microdermabrasion Scrub 


DERMA E's award-winning, luxurious Microdermabrasion Scrub is one of our best sellers thanks to its amazing ability to help remove build up of dull and dry skin. It combines Dead Sea Salt and a fine-textured crystal blend that helps buff away dullness and smooth the look of fine lines, wrinkles, roughness, and acne scars. It's infused with a blend of citrus oils that helps refresh and soften the skin for a radiant complexion. Use it as a weekly skin rejuvenator for silky smooth and revitalized skin.
Chemical Exfoliation
Chemical exfoliants work by using acids to dissolve the bonds between dead skin cells, which increase the cell turnover cycle and cause the top layer of your skin to shed in different cycles. Chemical exfoliation also helps with unclogging pores and reducing the appearance of pore size, smoothing skin texture, reducing uneven skin tone, and improving clarity on acne-prone skin. (Source)
What exfoliating acids should I use for my skin type?
The amount of different exfoliating acids available might be daunting to sift through if you're new to chemical exfoliation. For example, Glycolic and Mandelic Acids are great options for those with oily, blemish-prone skin, while Lactic Acid and Azelaic Acid are gentler choices for folks with dry or sensitive skin. And for those dealing with hyperpigmentation, Vitamin C and Kojic Acid can work wonders.
We Recommend:
Best Chemical Exfoliant for Supple Skin in Spring.
Another best-seller of DERMA E's, this antioxidant-rich peel is formulated with stabilized Vitamin C (meaning it doesn't lose its potency, efficacy, or degrade as easily as other forms of Vitamin C), plus Lactic Acid to gently encourage the shedding of the top layer of your skin. The addition of vegan Bromelain, an enzyme naturally found in pineapple, also helps with exfoliation as well as reducing inflammation that could occur. It's a powerful liquid peel for those who seek help with collagen production, brightness, and evening out skin tone and texture.
Tip 2: Use Targeted Serums
Instead of slathering on countless serums in a bid that one will eventually improve your skin health, pay closer attention to how your skin reacts to any new product in your regimen and deduce your needs accordingly.
Are you experiencing dry patches after going too heavy on the active ingredients? You might need a boost of hydration with a super-moisturizing serum that contains a humectant like Hyaluronic Acid in it, which draws moisture to your skin.
Experiencing dark spots or sun damage, or want a boost in collagen production? You could benefit from a brightening Vitamin C Serum, or a formula that contains Pycnogenol® for a glowing complexion, reduced hyperpigmentation, and plumper-looking skin.
If it's breakouts that got you feeling blue, choose a serum with anti-inflammatory ingredients that help you treat acne without being too harsh, or one with a gentle exfoliating acid like Glycolic or Salicylic Acid.
We Recommend:
The perfect serum for your spring skincare routine: 
Packed with nourishing yet gentle and replenishing ingredients that aid in balancing your skin microbiome, this serum is a dream if you need help with calming down irritation, redness, dryness, or inflammation.
Probiotics support the restoration of your skin microbiome with "good bacteria" that assist in skin-barrier function, while Prebiotics feed the beneficial microbes with nutrients to help them thrive. Finally, a blend of protective and free-radical-fighting antioxidants like Cica help to soothe your complexion so that you're glowy and fresh this spring.
Tip 3: Switch to Gentler Cleansers
It's time to retire your rich face washes or thick cleansing balms for a lighter, gentler cleanser. Why? Because you're (hopefully) dialing it back on the heavy foundation use and full-coverage complexion products in the spring and opting for cosmetics with lighter coverage, like tinted moisturizers or pigmented serums that don't require the same level of heavy-duty lifting as their winter predecessors.
Since transitioning from the colder climes into warmer weather might freak your skin out, a gentle cleansing product that is safe to use on acne-prone or sensitive skin is a good call to protect your complexion.
If you have normal skin or a skin type that is much less reactive to weather changes, then consider yourself lucky!
We Recommend:
The perfect gentle cleanser to transition into spring:
This sulfate-free cleanser is designed to help you achieve a skin-soothing clean that doesn't strip away moisture or healthy bacteria on skin's surface, and actually helps to restore balance of the flora that make up a healthy skin microbiome. Best of all, the entire
Pure Biome collection
is safe for all skin types.
Tip 4: Wake Up Tired Eyes
Whether your eyes are still dealing with heavy baggage from staying indoors and staring at a computer or phone screen all winter, or they're experiencing puffiness from allergies this spring, your eyes could be suffering from a lack of proper care.
As we age past our 20s, our skin loses its ability to naturally produce collagen, resulting in looser skin, fine lines, and wrinkles. Our eyes tend to show signs of aging before other areas of our face due to the thin, delicate skin that surrounds our orbital bone. Excessive rubbing, squinting, and irritation can also lead to crow's feet, dark under-eye bags, or puffiness.
A great way to wake up your tired-looking eyes is with a brightening eye cream that contains protective antioxidants, provides hydration, and energizes eyes.
We Recommend:
Best Brightening Eye Cream for Youthful-looking Eyes in Spring: 
This super soothing and line-smoothing eye cream enlists the help of its shining and bright star ingredient, Vitamin C, to improve the look of dark under-eye bags while adding antioxidant protection. Anti-inflammatory Turmeric helps impart a luminous glow to dark circles while Caffeine helps to reduce swelling around the eyes, making this the perfect eye cream to ensure it's all smooth sailing for as far as the eye can C.
Tip 5: Swap Heavy Creams for Lighter Formulas
Replace your heavier, thicker moisturizers or facial oils with a lighter lotion or moisturizer. Your skin is better able to retain moisture during the spring and summer seasons compared to the fall and winter seasons. Compared to how dry and chapped skin can get simply from the cold winter winds whipping the air, your skin in spring may feel overwhelmed using the same daily moisturizer.
Instead, reach for a cream that is gentle and doesn't contain heavy occlusives. Aloe Vera is a great hydrating ingredient that can help soothe irritation and inflammation without clogging pores.
We Recommend:
The Perfect Lightweight Spring Moisturizer: 
This super-soothing and microbiome-balancing moisturizer is safe for all skin types including skin with sensitivities like acne, rosacea, and eczema. It's light in weight but super hydrating, thanks to the high content of Aloe Vera it contains.
It's especially great for balancing red, inflamed, irritated, and chapped skin, thanks to Probiotics and skin-nourishing Prebiotics that reset your skin microbiome. Antioxidant Pycnogenol helps to protect your skin from free radicals, and Panthenol (also known as Provitamin B5) helps add another layer of skin-conditioning hydration.
Tip 6: Sun protection EVERYDAY (Regardless of the Season!)
This should go without saying, but if you're not wearing sunscreen every day (yes, even during winter or on overcast days), you might want to adopt doing so as a daily habit.
80 percent of UV rays can penetrate through clouds, according to FDA warnings. Furthermore, a cloudy day means that UV light can be more scattered, making hats less effective due to the randomized cloud formations (J.C. van der Leun, X. Tang, M. Tevini).
Physical Sunscreen
A physical sunscreen, or mineral sunscreen, helps to protect your skin with mineral Zinc Oxide or Titanium Dioxide as their active ingredient, and is meant to sit on the surface of your skin to physically block or reflect the UV rays before they can penetrate your skin and cause damage.
Whether you're partial to chemical sunscreens or prefer physical sunscreens, it's crucial that you wear sunscreen or protective clothing every day to minimize your sun exposure and keep skin healthy. Even if you seek shade, you could still be exposed to UV radiation if you live in high altitudes or where the sun can reflect from snowy or icy surfaces.
UVA and UVB rays are damaging to skin cells in different ways, with UVA radiation having the ability to penetrate below the surface of our skin, causing photo-aging and wrinkles. UVB radiation is responsible for sunburn and has been shown to cause mutations in our DNA cells, which can lead to melanoma and other types of skin cancer (Source).
We Recommend:
Best Sunscreen for Spring: 
Sun Defense Clear Zinc Mineral Oil-Free Sunscreen SPF30 Face
This mineral sunscreen is perfect for those who have sensitive skin, as it uses mineral Zinc Oxide to provide broad-spectrum UV protection.
It's oil-free and safe for sensitive or acne-prone skin types.
The best part? This formula is virtually invisible, meaning no white cast.
Tip 7: Don't Forget About Your Body
Since the human's largest organ, your skin, covers more than just your face, it's important to also keep your body moisturized throughout spring as well. After all, you'll be showing more of your skin now that the heat's starting to rise, and the key to smooth skin is by keeping it nourished and healthy.
A light, soothing body lotion worn underneath a broad-spectrum sunscreen will help keep your skin soft and comfortable throughout the day. If you don't like the feeling of having to apply body lotion to dry skin, we suggest applying it while skin is damp right out of the shower so that your application is smoother.
We Recommend: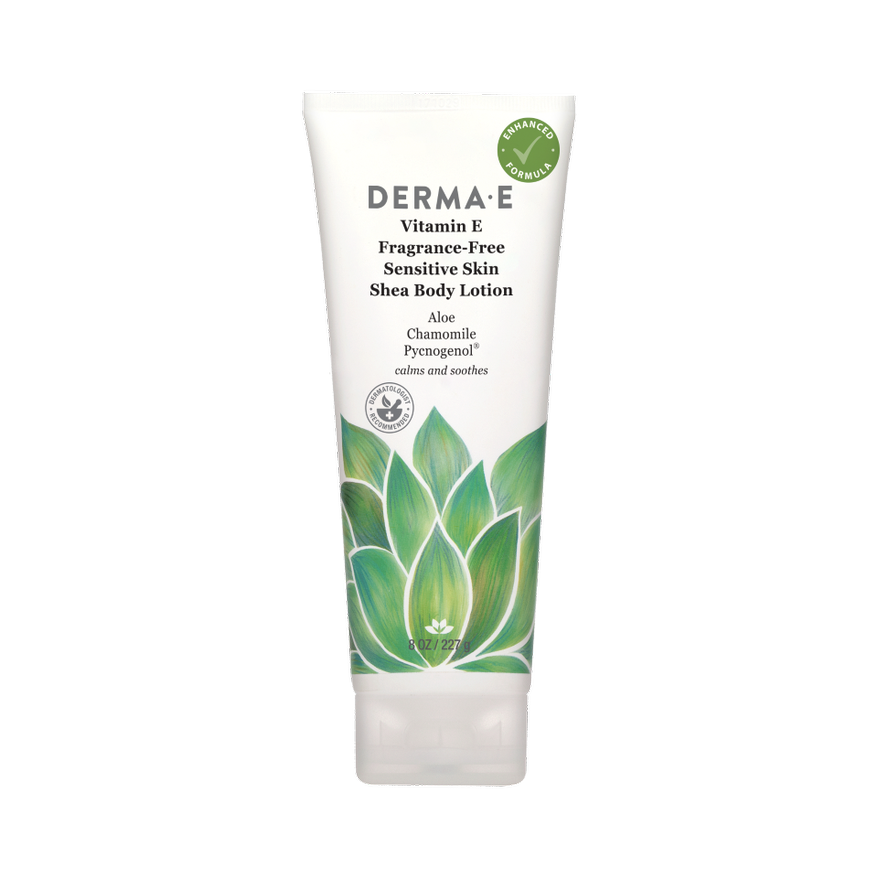 The Best Body Lotion for Spring:
This soothing and super-hydrating body lotion is free of fragrance and helps keep your skin silky-smooth all day long, thanks to healing Vitamin E, soothing Aloe Vera, calming Chamomile, and moisturizing Pycnogenol. Shea Butter further soothes any itchiness and irritation, making this perfect for sensitive skin types.
Helpful Skincare Hacks for Healthy Skin All Season Long
Always wash your hands before starting your skincare routine or touching your face



Refrain from touching your face unless you absolutely have to



Bring fresh oxygen into your blood flow with 30 minutes of rigorous physical activity at least three times a week to keep skin looking and feeling fresh



Drink lots of water! Staying hydrated is crucial for flushing out your system



If possible, use a clean towel after washing your face (you can use one side of a fresh towel in the morning and the other side in the evening) and change out your pillowcases weekly



When in doubt, reduce the number of products you're using rather than adding another product to fix new skin issues or reactions



Do a spring cleaning on your cosmetics and skincare products, making sure to check the expiration date to ensure that they're safe for use and getting rid of old products that have been collecting dust in your medicine cabinet